Open Air Bath in Ocean Front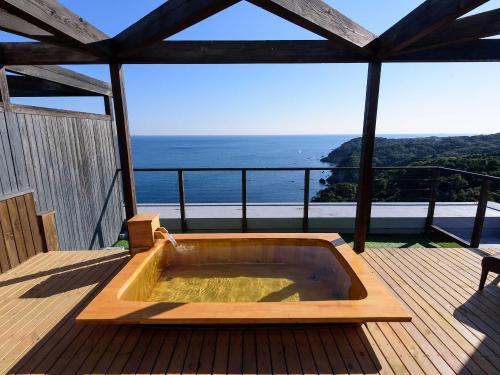 Bathing in front of the ocean and sunshine for ultimate relaxation.

Guests can enjoy an ocean view open-air bath which located on the top floor of the property. It is the best place that feels nature. A horizontal line where the sky and the sea overlap. A sky with full of stars, rising morning sun … … Please enjoy the special moment during your stay. 
Public Bath with Panorama Ocean View
It feels as if you are immersed in the ocean and refreshes your body and mind. Please heal the tiredness of the trip with a jacuzzi bath.

Open Hours  6:00 ~ 10:00 / 15:00 ~ 23:00 

Amenities in the room
Hand towel, Bath towel, Cotton kimono (Yukata), Toothbrush/ toothpaste, Comb, Razor, Dryer, Shower cap, Shampoo, Conditioner, Slipper